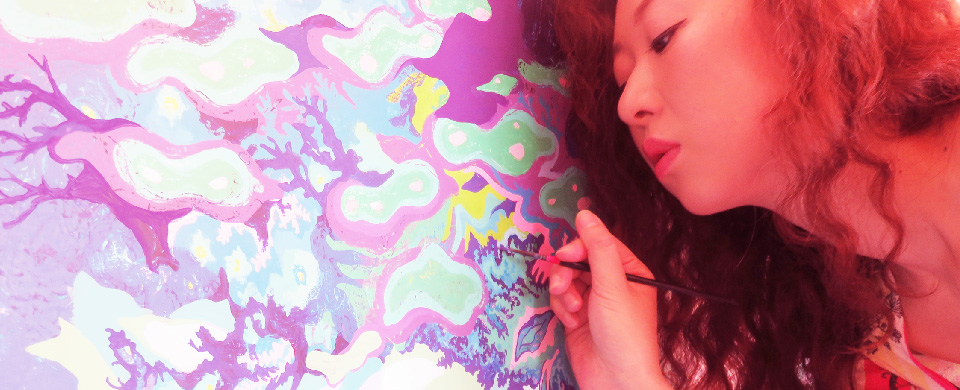 【画家/伊藤正美】
1980年福島県出身。

旅と音楽とミラクルな出会いを愛する芸術家

聴覚障害を持つ両親の長女として生まれる。
後に、音楽と共に青春時代を過ごし音楽とダンス、人、そして自然との一体感が生み出す瞬間に衝撃を受け美しい瞬間、体感、音を切り取る方法として独学で絵を描き始める。

2008年1年半の世界一周の旅へ。
バックパッカーで25カ国を訪問し各地での生活に触れる。

旅の出来事やシャーマニズム体験からのインスピレーションを元に作品を制作。
世界中の人に共通する感覚に訴える絵画を追求。

独特の曲線と色使いが特徴的な作品はDNAのうねりと生命のヴィジョンを表現している。

【Painter / Masami Ito 】

Born in Fukushima Prefecture in 1980.

An artist who loves travel, music and miracle encounters

Born as the eldest daughter of hearing-impaired parents.
Later, I was Impressed by the moment when music and dance, people, and nature were created, and began to self-taught as a way to cut out beautiful moments, experiences, and sounds.

2008 A trip around the world for a year and a half.
Visit 25 countries as a backpacker and experience life in each area.

Created works based on inspiration from travel events and shamanistic experiences.
Pursuing paintings that appeal to people all over the world.

The work, which is characterized by its unique curves and colors, expresses the swell of DNA and the vision of life.